Oh my! I can't even believe it's February already!
I have found some lovely products to tell you about this month! Ι've really been using these non-stop and I can't wait to show you :)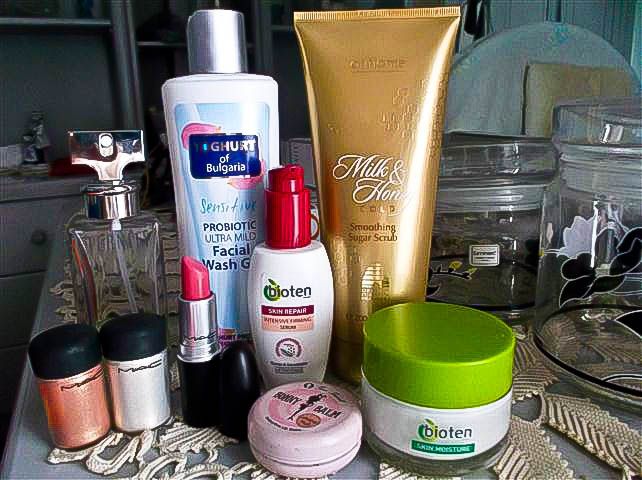 1.Calvin Klein - Eternity Perfume
This particular perfume holds a dear place in my heart because my mum used to wear it ever since I was very little. So it always brings back good memories. I firstly bought it when I was 18 and I always make sure I have a bottle of this on my vanity. It smells very...feminine. Its top notes are freesia, mandarin and sage, its middle notes are muguet, white lily, marigold, narcisse and last, its base notes are patchouli, sandawood and amber. Definitely take a sniff, if you come across it.
2.Yoghurt of Bulgaria - Probiotic Ultra Mild Facial Wash Gel
I am stil planning on making a full review of this, so I'm not gonna get into much detail but I simply LOVE it and I wish I'd gotten another one in Bansko. It's got a very discreet scent and instantly melts into your skin. It cleanses very well, but the thing I love the most about it is that it leaves my skin feeling super moisturised. I can't quite explain it. Mostn of the other cleansers will leave your skin feeling stingy. This will make it super soft and full of moisture. Like you've put a serum on top. It's amazing! Next time I'm in Banso Im stocking up the whole brand plus several back-ups of this baby!Seriously!
3.Oriflame - Milk&Honey Soothing Sugar Scrub
I really like the philosophy behind Oriflame's products but to be honest most of their products don't seem to work on my skin. This scrub I got in a Christmas gift set and I was truly pleased with the results. I have dry skin(for the 100th time), so a good harsh scrub once a week really helps to sooth it and remove all dead skin cells. More than that and it can dry it up even more(talk about weirdos). This products is a saviour! It's not harsh at all, I can use it 2-4 times a week and it will effectively remove the dead skin cells, make my skin super soft, while not drying it up. It's got a very light consistency and its scent is quite fresh. HG!
4.MAC Pigment - Vanilla
Such a gorgeous product! It's a golden off-white and has lots of uses. I use it as an eye shadow, inner corner highlight, brow-bone highlight, cupids bow AND cheek highlight. One thing. GET IT!
5.MAC Pigment - Melon
I did a review on this
here
. It's a beautiful golden peach that can be used as a highlight as well. I've been using this seriously all month. Can you see a slight obsession with MAC's pigments?
6.MAC lipstick - Chatterbox
For me this is the perfect 'bright' colour for daytime. MAC describes it as a red pink but it doesn't show up any redness on me. Maybe because of my coll tone it shows up cooler, more like a bright girly pink. It's super gorgeous, I've tried it on lots of my friends and I reckon it'll suit most skintones!
7.Bioten Skin Repair Serum
Ok, I've been using this for more than a month. I really like it. It's got more of a gel texture than a serum and boosts my skin with moisture! I can't live without it! It's my second bottle of this and I'm sure going to repurchase. I'm not sure about its firming claims, simply because I don't have such problems as of yet! Also, it preps my skin like a dream, almost like a primer, before I put on my foundation.
8.Too Faced lipbalm - Grapefruit
This is my second container. I first got it when Laura/lollipop26 recommended it a few years ago. I don't reallt use it as a lip balm, it's not that moisturising anyway. Add the fact that its quite sticky, I use ot more as a lip gloss. It stays for hours, smells amazing and gives an amazing finish to my lips!
9.Bioten skin moisture moisturiser*
I love this. It adds the right amount of moisture to my thirsty skin, has a light texture that absorbs quickly, leaving my skin soft and plump AND it smells amazing. Applying this after the serums is the perfect combination! A review is on its way so I'm not gonna get into much detail!
So that's it for my January favourites girls! What do you think? Have you tried any of these?