Hello guys! I seriously don't know how to start this post. I hope you've been doing well. I know I've taken a BIG break from the blogosphere, but that's due to having two jobs that have kept me busy from early in the morning 'till late at night. But I'm not gonna sit here and apologise now am I? I'd better make a separate post about it. Now, HELLOOOO summer! The temperature's rising, summer clothes are out and of course, what a better way to switch your mood than to put on lighter, brighter make up? I'm all for the magenta, fuchsia, bright pinks, corals and all those summery shades, but there's one particular product that works perfect for me during day and night. The award goes to Rimmel's Long Lasting Lipstick by Kate Moss in no16!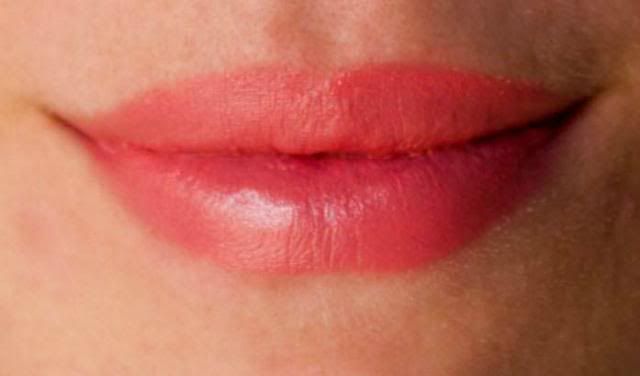 The Good
First of all, the packaging, while pretty standard, looks very chic and has Kate's signature on the lid. The lipstick was a gift from my friend, as it's incredibly difficult to get my hand on Rimmel in Greece. The first thing I noticed about it is (well, I was gonna say the pigmentation, but mind you,) the smell. I understand that it may not appeal to everyone but I actually kind of like it. It's got that old, I-stole-it-from-my-mom kind of smell, but it fades after a few minutes. The second thing is probably the pigmentation. It goes opaque in one application, which I thought was quite strange, considering it's not from the matte collection, but has a glossy finish. Its texture is very creamy and smooth and almost glides on to your lips. The colour itself is truly beautiful and oh so summery. It's describes by most people as a bright, but not neon bright, corally pink. Due to my lips light pigmentation, it shows up more coral on me, which I think I like more.

The Bad
Unfortunately, there are two negative things I had to include in this post about the lipstick. The first one (and probably what pisses me the most) is that it accentuates any dry or flaky areas you may have and as it's a light shade, it may not look as appealing. The other negative thing is that, while I do find it very smooth on application, the formula itself can be quite drying after a while. Having quite dry lips 'by nature' I wasn't very fond of the results. But that can be fixed by applying a clear lip balm before the lipstick for better results.

Conclusion
This is an incredible product to have, as it's quite affordable, and its negatives can be fixed just by priming your lips before applying the lipstick. The colour very summer appropriate and can be worn during the day, or as a nice nude to accompany your smokey eyes during the night. The range has so many colour and I'm tempted to order more.

That was my take on the lipstick lovelies. Have you tried any of the Kate Moss lipsticks? What do you think of them? Let me know!