Hello everyone!
I am determined to finish the series (2013 faves) before January ends. Things have been happening in my personal life and blogging wasn't my top priority. I'm sure I don't need to apologize everytime, as I know you guys do appreciate more a good post that a 'forced' one.
So, books have become something like my best friend this and last year. I don't know about you, but I can't sleep well at night, if I haven't read a single page of a book. 2013 was the year of FANTASY. I do seriously believe it's become of my favourite genres out there. And so I thought I'd do something a little bit different this time and show you my favorite books tht I read in 2013.
Without further ado, let's get cracking:

1."Name of the Wind"/"Wise Man's Fear" – Patrick Rothfuss
Well, my biggest discovery and along with that my favourite discovery has to be Patrick Rothfuss. I've only read two of his books(and still impatiently waiting for the third one), but I guess I'm pretty hooked. I like his style, his characters, his world. Pretty much everything.
So, basically these two books are part of the 'Kingkiller Chronicle' trilogy. The main character, Kvothe, I fell in love with. He is heroic, he is smart, he is a rebel, he is legendary, but he is also human. The books describe the life of Kvothe and how stories about him and how the stuff he did, made him the legend he is now. I absolutely love it. It is fantasy, but it's not 'in your face' No magic as we know it, no dragons, no pixie dust. It might as well be real.(*sigh).
Not to ramble, you NEED to read these. It's vital. I am currently 'dying' while waiting for the third and final installment of the series(what a drama queen). Thank god it's coming out this year! You can see my full and detailed review on Goodreads
here
2. Rage of a Demon King - Raymond E. Feist
First of all, I have to say that I am a huge fan of Mr Feist. I'm sure most of you know him, but if you don't hey, you do now! Along with Rothfuss I declare them two favourite authors of 2013. So basically his stories are set in another medieval-magician-kings-queen world called Midkemia. In 2013 I finished the second series/saga which is called 'The Serpentwar Saga'. To be honest, I was quite disappointed with the series as a whole, compared to the previous one, 'The Riftwar Saga'.
BUT, one book had to make the cut and that is the third out of the four, 'Rage of a Demon King'. It's got action, mystery, magic, wars, love and friendship all in one. It's the book that I enjoyed the most as it actually gave several answers and was the most entertaining. I'm not gonna tell you to go buy and read it as it wouldn't make sense as a book on its own so instead, I am telling you to go check out Feist as an author. He is the first author that actually shocked me while reading his books. As in, eyes and mouth-open-wow look.

3. Inferno - Dan Brown
Yep, that's right. I caved and bought the Infamous 'Inferno' by Dan Brown. First of all I was super excited because it is set in the ever so beautiful Florence. I'm sure you all know him but now, Robert Langdon awakes in a hospital bed with no recollection of where he is or how he got there. Not to say much, along with a doctor named Sienna Brooks they basically try to save the world from a malicious thread.
The story is quite nice and a bit shocking at the end. Plus there's a whole lotta Dante's Inferno! Hurray! Dan Brown is not my kind of style when it comes to reading, but this book was seriously entertaining.
4. Faceless Killers - Henning Mankell
This book made me realize how much I love mystery/crime. With all the fantasy, I had completely forgotten about it and didn't buy any books of that genre. The is part of a series as well, the 'Kurt Wallander', where basically the reader follows the cases of Inspector Kurt Wallander, but contrary to the other series I've mentioned, they are stand-alone books. When the book is finished, the case is solved. This particular one has to do with a brutal murder in a Swedish village. Mr Mankell did an exceptional job here.
The book is full of mystery, is quite easy to read and very enjoyable. The thing I like the most is that you really do connect to the characters. I really shouldn't give too much on the books without spoilers so I shall end my rambling here.
5. The elephants dance – Sophia Nikolaikou
Politics, journalism, skepticism, all are perfectly bonded in this book. It is my first book of this author and I enjoyed it quite a bit. The elephants dance is a greek saying depicting that the higher classes or people with power(politicians etc) can step on the lower ones(normal people) and they can very much twist the truth, hide it and stitch it to their own measures. I wasn't particularly fond of the ending but I finished the book very soon, compared to the other ones. I am afraid that if you cannot read greek, you won't be able to read it but hey! I has worth to mention! You can read my full review on this(in greek)
here
.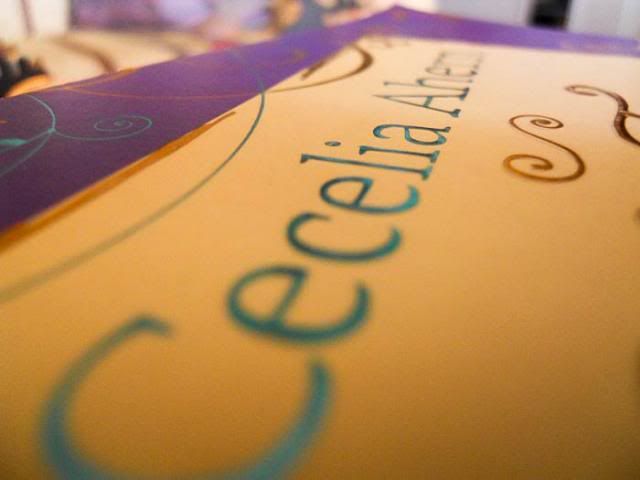 6. The Time of My Life - Cecelia Ahern
Of course, the list couldn't be complete without chick-lit, which is my guilty pleasure. The award goes to Cecelia Ahern, which is one of the best chick-lit authors out there in my opinion. I read this book for the second time. It centers around Lucy Silchester, who is unemployed, has recelty broken up and she's basically a mess and can't move on.
The first time I was actually surprised that it make my cry so hard, as I've never cried while reading a book. I thought it was because I was going through a break-up. But no. I read it again and still cried. And still laughed. This is my favourite book of hers. I like it even more that P.S. I love you.(what?) The humour is astonishing as well. It's so witty that I was actually teary eyed. It's light hearted so I think most people could read this. Not to mention the GORGEOUS cover.
So that is my list of favourite book I read in 2013. I hope you guys like it.
Have you read any of these books? Are you planning to? Let me know!