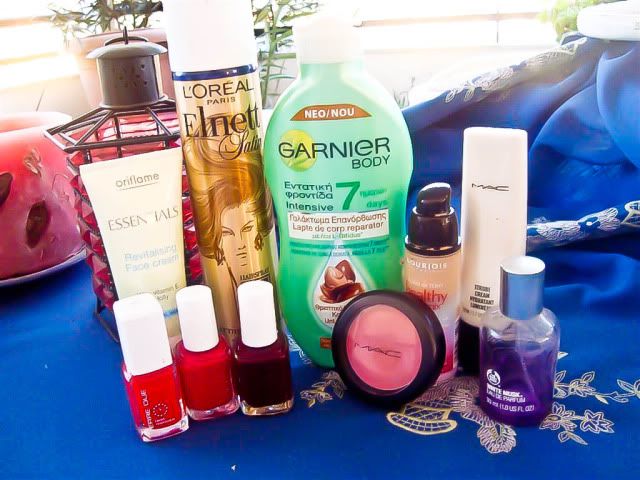 Hello everyone!

So this is what I've been using the most for the month of November. Make-up wise, It wasn't that interesting as I kept it really simple for Uni etc. Quite basic, every day make up.

1. L'Oreal Elnett Satin Hairspray.
Nothing more to say. Does the job perfectly and smells amazing.

2.Oriflame Essentials Revitalising face cream for normal skin.
I was not as impressed with the one for oily skin which I got in the summer but this one seems better and moisturises my skin quite well. I am willing to buy the one aimed at dry skin to try it out as my skin gets drier during winter.

3.Garnier Intensive 7 Days Repairing Lotion with Shea Butter for Extra-Dry Skin.
Wow, that's a mouthful. Well, I've been loving my BS body butters but this little baby has been helping me moisturise my skin every night, after I get out of the shower. It does the job perfectly and leaves my extremely dry skin moisturised and baby smooth. Plus, the scent is AMAZING!


4.White Musk Eau de Parfum.
I remember sniffing this when I was 13 and immediately falling in love with it. Now, six years later it still remains as one of the most beautiful scents that I ever smelt, and I always make sure that I have one bottle of this on my drawer.

Top notes: velvety musk, floral lily and sensual ylang ylang with hints of fresh galbanum and basil.
Middle notes: velvety musk, oriental jasmine, floral lily and rose.
Base notes: velvety musk, oriental jasmine, floral lily and iris, rose, sweet vanilla, fresh amber, patchouli, oakmoss and vetiver with hints of fruity peach.


5.MAC Strobe Cream.
It has been a favourite for quite some time now. I absolutely LOVE this. I recommend everyone to go and buy it. It's got the perfect sheen. I sometimes use it as a highlighter but most of the time I like using it with my foundation, especially with the one mentioned below.

6.Bourjois Healthy Mix Foundation.
I love that it's full coverage, yet does not look cakey at all. It's not matte and it gives a lovely glow to my face, when i first got it I thought it was like a porcelain doll's skin. And I also love the shade (52) It suits my skintone exactly.

7.MAC cream blush in Posey.
In the close up it looks lighter and slightly more peachier.(no idea why)
It's a lovely rosey peach that looks awesome if you fancy some pop of colour to your cheeks. And not to forget, because it's a cream product, it leaves a lovely sheen on the cheeks.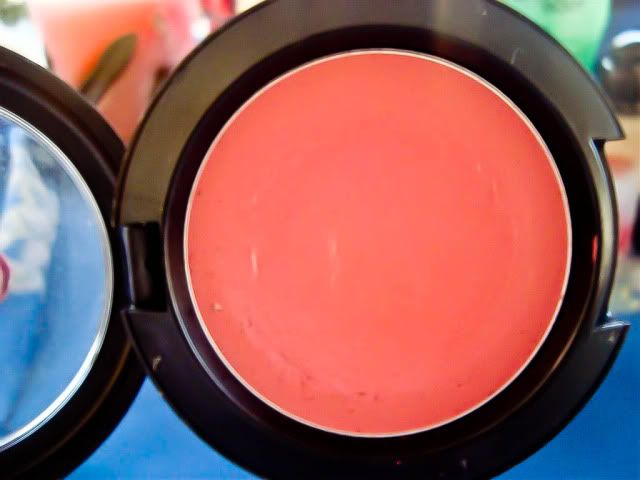 8.Nail Varnishes.
Essie in Trombone: a true blue toned red
Essie in Berry Hard: a true burgundy/burdeaux
Erre Due last minute in 31: a lovely yellow toned/tomato-ey red







Have you girls tried any of these products? If so, do you like them? Let me know!