Hello everyone!
Spring is definitely here, although last week has been a bit of a bummer since it's been rainy and grey. Now, I love nail polish and I think it can definitely complete the look of an outfit. Spring gives us the change to venture into more colourful hues, which I absolutely adore, so I've accumulated my favourite trends from the runways and I'm showing you girls...
So, let's start!

1. BLUES

I can't even count the times, that I've said blue is my favourite colour. This spring, blue hues will be all over fashion as well as beauty from baby blue and cobalt blue to navy. This is a trend that will stay with us for a while and one that I will definitely try.
(deborah lippmann - On the Beach, OPI - What's with the cattitude, Chanel - A Coco blue, Butter London - Blagger)

2.TANGERINE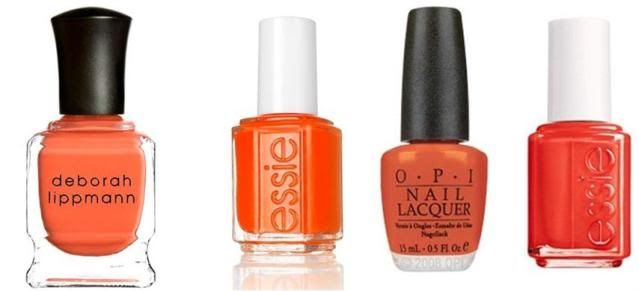 For the past few seasons, tangerine and orange have been a HOT trend going on. They are vivid, brighten up the whole outfit AND your mood. This is surely a trend that will be very popular this spring.
(deborah lippmann - Lara's Theme, Essie - Orange, It's Obvious, OPI - Brights Power, Essie - A bright orange)

3.NEON/BRIGHTS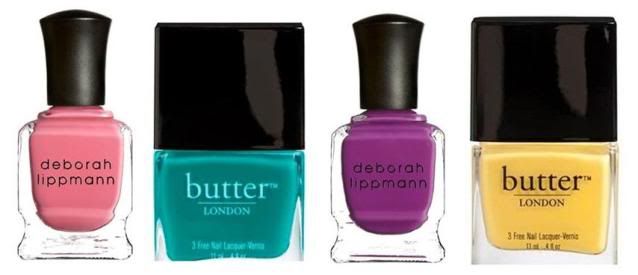 Brights have always been on trend during spring. This year is no exception. Neon colours are popular as well, only this year they've taken a more, kind of modern twist to them. This year's neons are creamier and more grown-up. Definitely not the highlighter hues that we were used to before.
(deborah lippmann - daytripper, butter london - slapper, deborah lippmann - between the sheets, butter london - cheeky chops)

4.PASTELS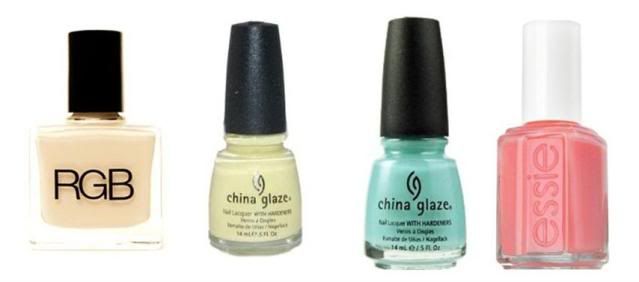 Pastels will always be on trend for spring. They look so chic and sophisticated! Nothing more to say here. End of!
(RGB - Vellum, China Glaze - Lemon Fizz, China Glaze - For Audrey, Essie - Hot as hello)

5.GREENS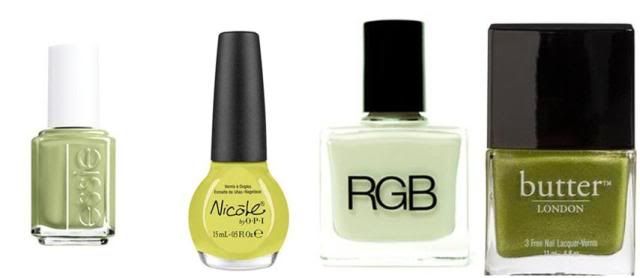 Greens are a huge trend this year with an emphasis on Pistachio Green for spring. Last year may have been the year of mint green but this year, Pistachio takes its glorious place. Oh it's such a lovely and sophisticated colour!
(Essie - Nagivate Her, Nicole by OPI - Ladies in the Limelight, RGB - Dew, butter london - dosh)

6.FUCHSIA


I have recently started to like Fuchsia on my nails. No, I mean REALLY like it. I think it's a modern version of the classic red in my eyes! This spring's runways have seen a lot of fuchsia on the model's nails and it's definitely something that I'm going to stick to! It adds the right ammount of edgyness and femininity.
(Chanel - Rose Insolent, deborah lippmann - Sweet Dreams, Dior - Lucky, Essie - Tour de Finance)

7.NUDES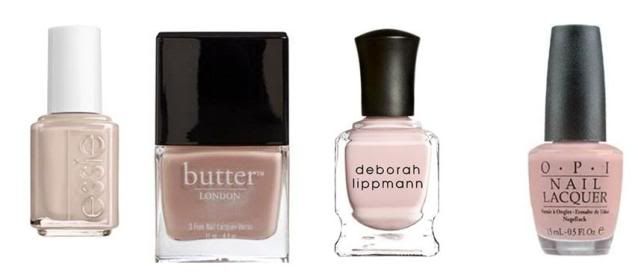 Last but not least, a staple for spring, nude colours have been on trend for several years now. Think more heart-warming, earth-ey tones that elongate your fingers. This one screams sophistication and femininity!
(Essie - Sand Tropez, butter london - Yummy Mummy, deborah lippmann - before he cheats, OPI - Let Them Eat Rice Cake)

**Images are not mine. They are courtesy of Dior, Essie, Deborah Lippmann, OPI, Sephora, China Glaze, RGB, Chanel, butter london and there's a couple that I found on google. Although I did put the effort to make the collages by myself xD**

Which trend is your favourite? Have you tried any of these? If not, are you planning to? Please let me know in the comments section below :)
Have a wonderful weekend!