Hello my beautiful readers! Today I thought I'd make a post about the products that I'm lusting over getting for a while now;)

Let's start!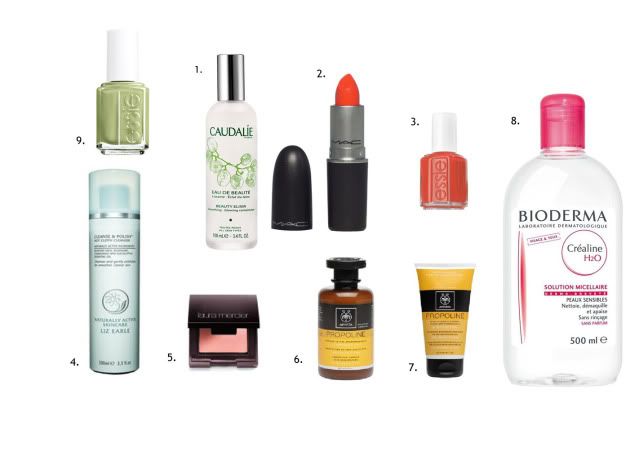 * Images are not mine. I found all of them on Google. I made the collage though ;)*

1. Caudalie Beauty Elixir
Bloggers have been raving about this lately! The price puts me off a bit, as I'm not really into this 'beauty waters' type of thing. This one seems to be different though, enriched will all sorts of vitamins and healing properties for your skin! Besides, it's one of Victoria Beckhams' favourites too!

2. MAC lipstick in Morange
I have no idea why I don't have this in my collection yet. I've been wanting it since last summer, and being a MAC junkie, it seems weird ;). It's a beautiful tangerine colour that would look gorgeous during summer. I think it's probably going to be on my next BACK-2-MAC list!

3. Essie nail polish in Vermillionaire
All the beauty editors have been raving about this. Considering my obsession with all things orange/tangerine, this is a must have!

4. Liz Earle Cleanse & Polish hot cloth cleanser
Another product that's been raved about BIG TIME in the beauty blogsphere. I am literally dieing to try this out and I'm planning to do so as soon as possible.

5. Laura Mercier Second Skin Cheek Colour in Peach Whisper
I went into Beautyworks the other day to check this out as it's truly a beautiful peachy colour. The price is a bit high, but I'm thinking of splurging my money on it.

6. 7. Apivita Propoline Shampoo & Conditioner with Almond and Honey
My hair has been suffering from extreme dryness these past few weeks and I always rely on Apivita for situations like this. The price is not very high either so that's a bonus!

8. Bioderma Crealine H2O
As I'm sure you all know, this is a staple for every make up artist out there! As I'm trying to change up my skin care routine to something that suits my dry/sensitive skin more, I'm planning to have this as my make up remover before I use my cleanser! It's convenient that most pharmacies here have it too!

9. Essie nail polish in Navigate Her
I am in LOVE with this colour! It's so chic and spring-y. The perfect Pistachio Green that would make a lovely addition to my nail polish collection!


Have you girls tried any of these products? What do you think?