Follow my blog with Bloglovin
Hello beauties!

I know I'm awful at posting my monthly favourites on time, but to be honest I didn't really experiment that much during these two months. I seem to have found a beauty regime that really helps my skin and I plan on keeping it as my skin seems to love it :)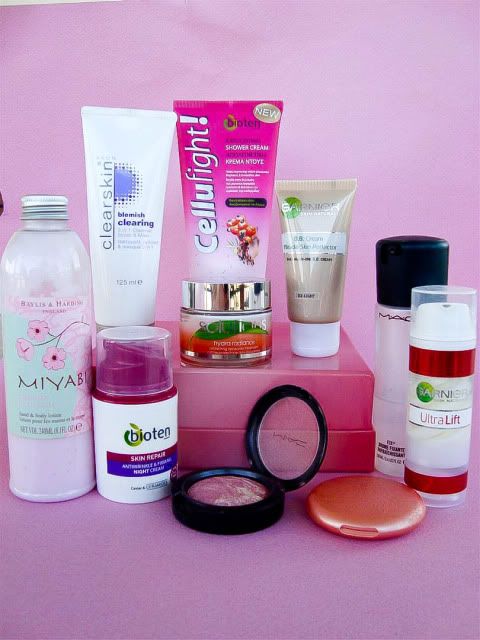 Let's start!

1) Avon Clear Skin blemish clearing 3 in 1 cleanser, scrub & mask
This is a product I've been using every 3 days and has helped me quite a lot in terms of the texture of my skin as well as making the overall appearance of my skin better, with less blemishes etc. I have dry skin with very dry patches on my cheeks and this is not very harsh and does the job very well. It is stingy and once you apply it literally feels like your skin's breathing!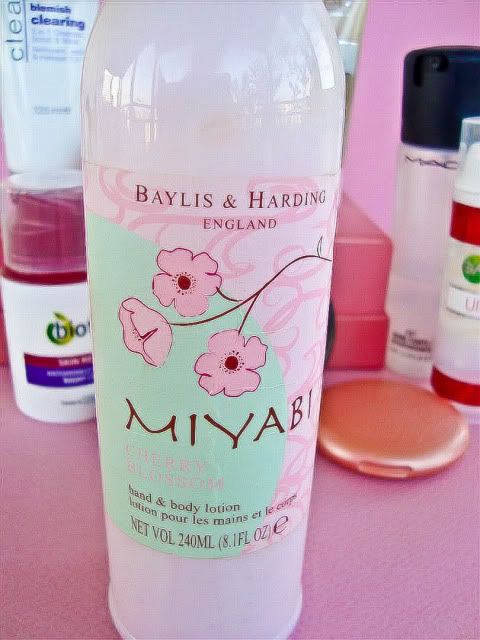 2)Baylis & Harding MIYABI hand&body lotion in Cherry Blossom
It may be a lotion but it's got quite a thick consistency that absorbs really quick into the skin which I absolutely LOVE! It is fairly moisturising, plus, it's got the most amazing, fruity scent! Perfect for summer!

3)Bioten cellufight Exfoliating Shower Cream*
I know this is probably the 1000000th time that I say this but, I have very dry skin. Especially on my body. This helps me BIG time for my straw-like skin to feel clean and moisturised, as it completely removes any dead skin cells and harsh skin. A review is coming very soon.

3)Bioten skin repair antiwrinkle & firming night cream*
This is the perfect night cream for me. It is extremely moisturising and once I put it on at night, I wake up with baby soft and radiant skin. It is a bit greasy and takes some time to absorb, but who cares really, I'm just staying indoors!



4)Avon Solutions hydra radiance protecting liposome treatment
For daytime I usually switch my creams between this one and Garnier's Ultra lift. When my skins feel dull and needs a bit of extra moisture, I always reach for this. I wouldn't expect such results from a high-street day cream but it is very moisturising, although I have to wait for a good 10 minutes for it to sink in into the skin. It smells lovely and I highly recommended it to the girls who have dry skin out there! It's quite affordable too.

5)Garnier BB cream
Ok, I have tried. Really hard. I always try to use other foundations with full coverage, medium coverage, heck, I eve tried light coverage, but I always go back to this! Thank God I purchased lots of back-ups when this came out and now I'm fully stocked for summer. It is perfect, the right amount of coverage, the right amount of luminosity, plus, it provides moisture and SPF. Cannot rave about this enough! It's my HG product at the moment!

6)MAC Fix+
There are two ways that I use this. A)to set my make up, B)to refresh my skin. Whenever I use this to set my make-up, it holds everything in place and gives a lovely radiance all over my skin. This is my third bottle and I plan on repurchasing it again! So gutted I didn't get the rose one a couple of years ago ;)

7)Garnier Ultra Lift 2 in 1 Serum & Cream*
Like I said above, this is the moisturiser I choose when my skin feels normal. The combination of cream and serum provides the perfect solution to even out the texture of my skin. It feels a primer, and the foundation afterwards glides on to the skin! Smells lovely too!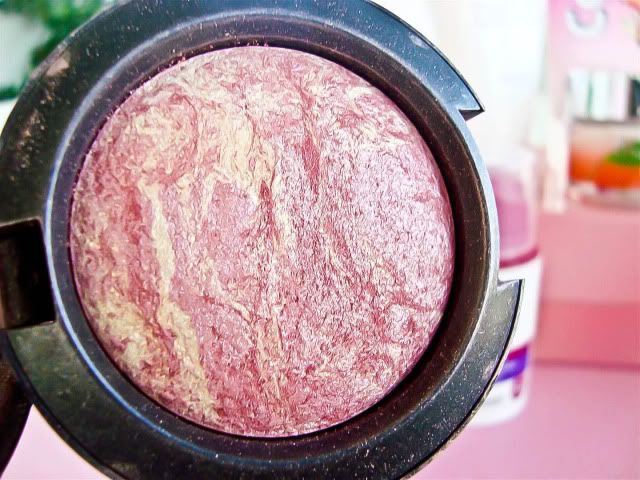 8)MAC blush in Daft Pink(LE)
I know this is a bit unfair but, I have not stopped using this blush, day and night! It's such a gorgeous pink colour and it's got an amazing sheen! I can't remember which collection it was from, but I can remember it was a couple of years ago. Sadly I don't want to use it up because, like I said in this post, it is one of my favourite blushes by MAC, ever!

9)Stila Convertible Colour in Gerbera
I wish Stila wasn't descontinued in Greece. It was one of my favourite make-up brands! This one I absolutely love, it translates into a peachy-pink once applied on the cheeks and gives the most beautiful and natural glow! If you can find it anywhere,I highly recommend you purchase one of these! They're worth their money!


***Garnier and Bioten, have kindly sent me these products. I wasn't payed to feature them in any post and they didn't ask for a review. Heck the Ultra lift even came as a gift! :) ***

So, this is it ladies! Have you tried any of these? What do you think? Let me know in the comments section below!

Have a lovely week!