Hello gorgeous people!
Another post, this one being about the nail varnishes I've been using like crazy for the past 3 or 4 weeks!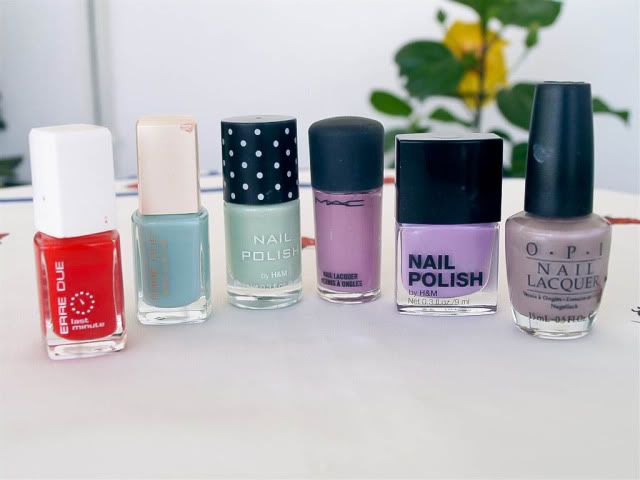 ERRE DUE Last Minute - 31
Lovely orangey, red *tomato red, as I like to call it* The application goes on very smooth and dries very quick!

ERRE DUE Exclusive - 133
This is like a baby, powdery blue, almost like a Robin's Egg blue, which is one of my favourite blue hues! Again as with the rest of the ERRE DUE nail polishes, the application is very smooth! They're affordable too, at around the 5E price tag!

H&M - Dollar Green
The mint green trend never gets old, for spring an summer! This baby was cheap, costing me no more than 3E and it looks a-mazing!!!

MAC - Love & Friendship
I am soooo gutted this has been discontinued, as it's probably my all time favourite colour in my nail varnish collection! It's such a lovely and lady-like lilac-ey colour and more warm and pink toned than the next one!

H&M - Temptress
This is more cool toned and more pastel looking than the previous one. I actually bought it to get over my sadness, because the MAC one is running out. Not the same, but still a gorgeous lilac-ey colour.

OPI - Color of the Zen-tury
This is one of my all time favourite nail varnishes! It's like a mauvey gray, with hints of very fine sparkle in it! It looks great during winter but I find it ideal for when I'm a little bit more tanned during the summer! This is probably the most expensive out of the batch, costing me a dreadful 15E from Sephora!

What do you think of the nail varnishes girls? Do you like them? Have you tried any of them?