First of all HAPPY CHRISTMAS girls!
I hope you're having a fantastic time!

I went to Bansko, Bulgaria with my friends for a couple of relaxing days and this is what I got!
Bulgaria is famous for producing roses, so anything rose-scented and/or with rose water is typically attracting tourists. The thing is, I HATE rose scents! Mind you, I like roses as in flowers but the scent of a rose in products makes me think of an old lady. I only managed to get one(or two) rose-scented products as you will see below!

I must say, I feel very pleased with myself as I did some seriously controlled shopping despite the prices being so cheap!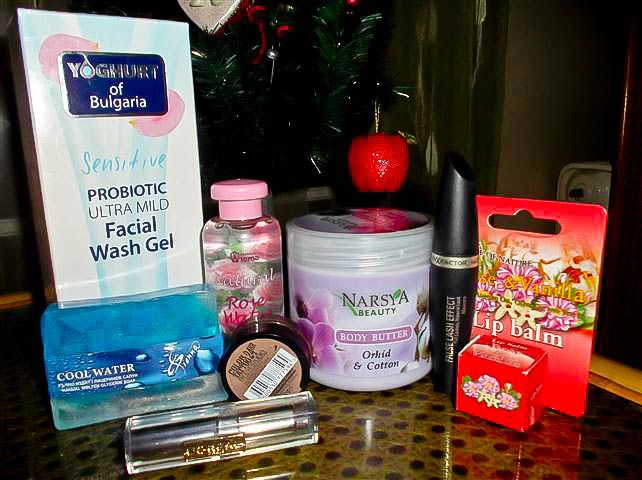 1)YOGHURT of Bulgaria Sensitive probiotic ultra mild facial wash gel - 4E
(I've used this a few times. So far I'm loving it, it's so good! Expect a review soon)

2)lema Natural Rose Water - 1,5E
(haven't used this yet, only got the small version 'cause I wanted to see what the fuss is all about. Smells strongly of rose..)

3)Narsya Beauty Body butter in Orchid and Cotton - 3,5E
(smells DIVINE! moisturises well.overall a bargain)

4)Rose and Vanilla lip balm - 0.90E
(It isn't even worth talking about it, thank god it was cheap(er than) as chips, it's got a very thin texture, does nothing, doesn't last long. I mean, HnM lip balms are better...imagine that.)

5)Max Factor False Lash Effect Mascara in Black - 7E
(favourite drugstore mascara, found it lower than half the price)

6)Maybelline Color Tattoo in On and On Bronze - 6E
(beautiful bronzy colour, found it half price)

7)L'Oreal Caresse lipstick in Impulsive Fuchsia - 10E
(I wanted to get this particular colour for quite some time, you can imagine how excited I was when I found it in half the price!)

8)Pure body soap in Cool water
(this was supposed to be a present, I was very absent-minded when I got it...I might be keeping this for myself...)


What do you beauties think of my not-so-impulsive haul?