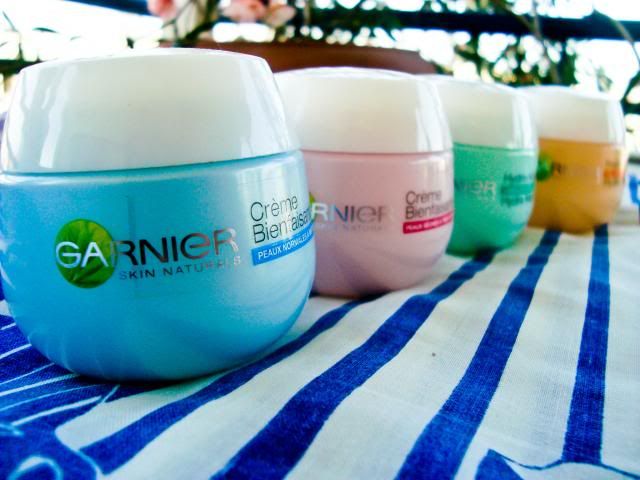 Garnier Hydra Match - 6.49€*
Hey lovely people!
Firstly, Happy 1st December! Christmas is only 24 days away and I'm already in a Christmassy mood and looking forward to holiday music, decorations and such.

Secondly, I want to make an apology for not updating the blog at all in the past couple of months. To be completely honest, my ever-so-lovely camera broke down, I was pretty bummed about it and my other camera didn't have the same quality. Then other things, including work, came in the way and need I say more, blogging wasn't my first priority.

However I could've never distanced myself from it, so here I am talking about Garnier's newly launched range of Hydra Match moisturisers, which are "tailor-made" to suit your skin issues. Having been trying them for several months, considering my skin has changed quite a bit during seasons, I am now confident that I can write a full and honest review on them.
To get it out of the way before I start soliloquize, the thing that got me hooked at first was the cute packaging. Seriously, how adorable are the little pastel tubes?

I'm gonna start by talking about my favourite out of the four and that's the blue one, which is suitable for normal to combination skin. It is enriched with Blue Lotus and Mannose and it is claimed to leave your skin feeling hydrated for up to 24 hours. Now, I've been using this during summer, autumn and winter and I find that it's the only one that actually moisturizes my skin and leaves it feeling soft, radiant and healthy. It is not shimmery but leaves a gorgeous healthy glow to the skin. It absorbs fairly quickly and has a lovely fruity scent, while its texture is quite light. I actually liked it so much that I got a second tube and it's nearly finished!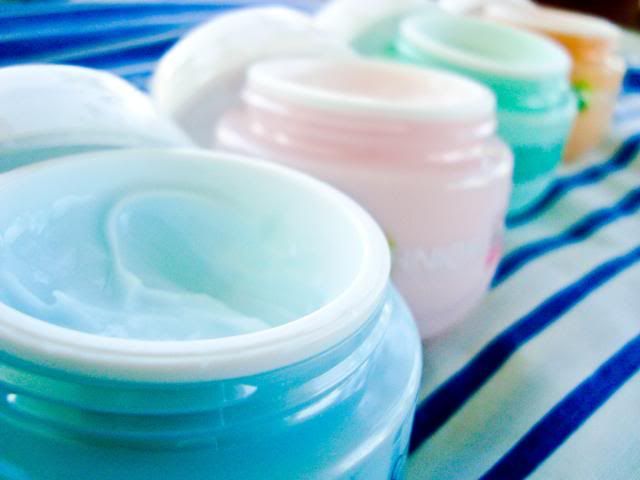 The orange one is aimed at dull and tired skin. It has a unique texture, as it's a gel. At first I thought what the heck, gels don't work on my thirsty skin but hey, this baby is gorgeous. It absorbs instantly, and leaves my skin feeling radiant and moisturized. What I really like about this though, is that it almost feels like a serum or face primer; as it does prep my skin amazingly well for foundation. It contains smoothing oils, Citrus extract and Mannose. To me it smells like peach and I find it great to wear on days where I need an extra boost to my skin.

The pink one is aimed at dry skin types, hence its texture is much thicker than the previous ones (actually the thickest of the four). It contains Camellia oil and Mannose and is supposed to "revive" your skin in an instant. Although it did provide a certain hydration, I was disappointed by it. Considering that I have dry skin, this would be a dream for me. But it was not. It left my skin feeling greasy, almost like an oil film. I tried this day and night, and it was simply not working for me. I couldn't imagine wearing this before foundation. Also, its texture is much too thick for my liking. Remember how hard it was to get that Nivea Cream out of the tube? Yep, like that. One positive though, the scent is quite lovely and sweet.
The green one is for all oily skin girls out there! It is enriched with Green tea extract and Mannose and it claims to leave the skin matte and moisture. It clearly isn't for me as my skin type is quite different, but after one application, I noticed that it absorbs quickly and leaves the skin looking matte. It smells like cucumber to me(more like The Body Shop's seaweed range to be precise).

To conclude, the ones that are the most suitable for my skin are the blue and the orange one. I actually quite like the result and integrating them in my skincare regime (post coming soon), works like a miracle.

Of course, you shouldn't "hook" on my opinion about each of them. People's skin reacts differently to different products, so you should check yourselves and I'm sure you'll find the one the suits you best. I can only say one thing, at 6.49€ they are a bargain!

So that's it. The blog post (more like a novel) came to an end. Phew. I am definitely posting more lovely things in the following week so watch out for those!

What do you girls think of Garnier's Hydra Match range? Have you tried it? Did you like it? Let me know!