Hello my gorgeous readers! I hope you're all doing alright!





Blush may be my all time favourite make up item, but lipstick is something that I invest in as well. From the palest hues to the most vibrant ones lipstick can change one's look in a split of a second. So, here is a list of my favourite MAC lipsticks!

Freckletone: Frecktone is described as a neutral peach and that's exactly what it is! For everyday use, I tend to choose warmer lipstick tones such as peaches or peachy pinks. I never was the type for pale nudes so Freckletone is my kind of nude. It has a lustre finish and pretty much goes with anything. *ahem it's neutral* I reckon it would suit most skintones and it can be worn during the day and during the night too. I think Frecktone is something that every lady, who loves lipsticks, out there should go and check out. (*sign* you NEED this in you lives!)

Snob: Snob was one of my first MAC lipsticks, and this is my second tube of it. I remember getting it because of all the hype around it. It's a ,satin finish, pale pink with lilac undertones in it and would probably suit cooler skintones. I don't mind wearing this in the summer when my skin's a little bit more tanned, but it's also a real treat during winter, because it easily makes, such a ladylike look. I have this weird thought that Snob suits blondes better, don't know why, but I'm more keen on seeing this on golden-haired ladies.

Pink Nouveau: I purchased Pink Nouveau about a year ago, when Lady Gaga came out with her Viva Glam lipstick and whilst she did interviews she said that Pink Nouveau was the lipstick of her choice. So you understand that there was quite a big fuss about this lipstick. Nevermind the fame, Pink Nouveau is a unique and beautiful lipstick colour on its own. It's a bright pink with a satin finish that can spice up any look that you're wearing. It is said that it suits brunettes better than blondes, I, being a blonde, insist that it looks JUST as gorgeous on blondes as it does on brunettes. Be careful though, as it can sometimes look very Barbie-like.

Impassioned: Impassioned is a lipstick that I can't quite describe. On the MAC website it's described as an amped-up fuschia. I say it's a very hot pink, with warmer orangey undertones. I have no idea why, as it always stood out to me on the MAC counter but I only got this on my 19th birthday last year and I instantly fell in love with it! It's such a fun colour to have around, it's not quite fuschia, not quite red. It's in between. I would probably like this one everyone, blondes, brunettes and even redheads, used lightly or full on. I usually like this kind of colour more in the summer but I don't mind using this during winter as well! Difenitely go and check this out!

Lady Danger: Lady Danger is my favourite kind of red! I love reds and I think that they look quite glamorous, so over the years I've acculumated quite a collection of blue-toned and yellow-toned lipsticks. This one falls in the latter. It's a bright orangey red, with a matte finish, that would probably suit any paler skintones even if they're warm or cool. It makes such a glamorous look, because in my opinion, matte lipsticks are way more classier than creamier ones, so matte red lipsticks are the epitome of class. What I love the most about this lipstick is that you can play with it and intensify the tones you'd like,yourself! Wear it with a warm blush and it instantly makes the orangey tones stand out, or wear it with a cool toned blush and the red-ey tones stand out. I'm not sure if I'd recommend this to everyone, I've come to realise that it suits different skintones with different faces and such, so it'd be nice if you went to a MAC counter and tried it out by yourself.


Media(LE): Media is a limited edition lipstick that came out with a collection that I can't remember the name of, last winter. It's a burgundy colour, more of a deep red wine. It's supposingly a satin finish but I find it to be more creamier than any other satin lipsticks I've got. To be honest it's the darkest lipstick that I own, and one that I rarely use. I tend to use it during the winter months. What I love about this lipstick is that you can use it full on, and make a statement or you could use it lightly as a stain or even as a blush.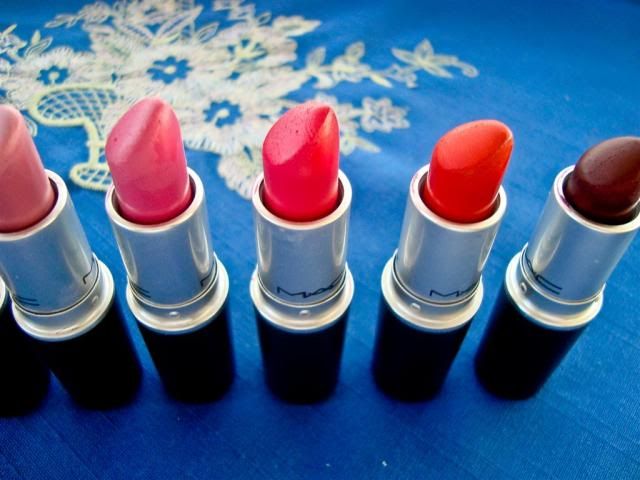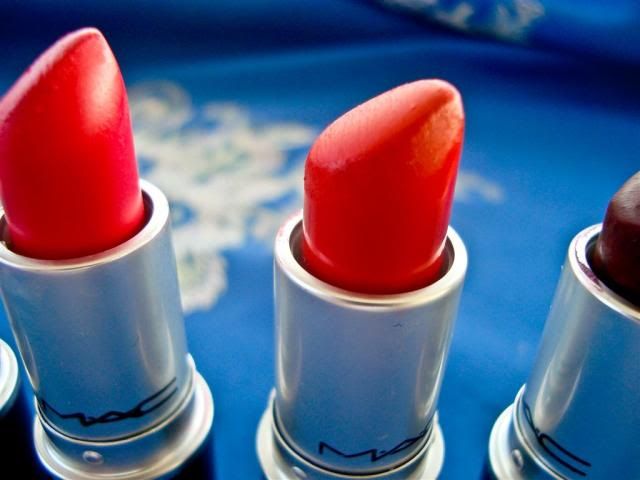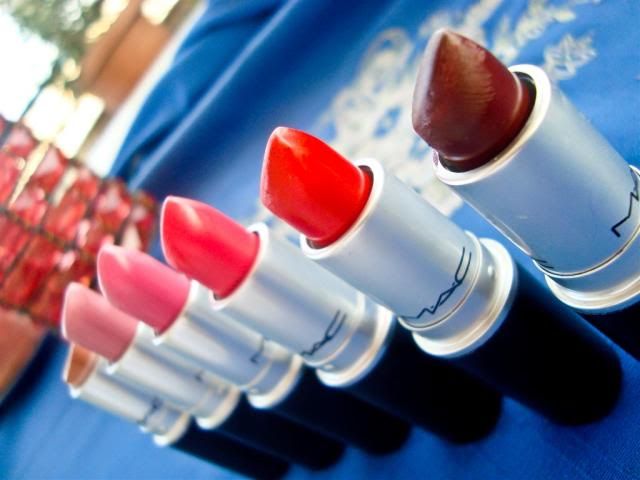 *lipstick swatches*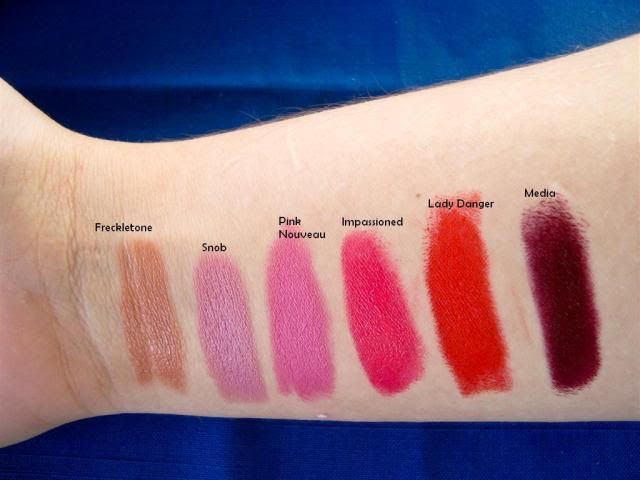 Have you, girls, tried any of these lipsticks? What do you think? What are your favourite MAC lipsticks?