Hello gorgeous people!
I hope everyone's having a wonderful week. Uni, friends and life in general, have kept me away for a few days!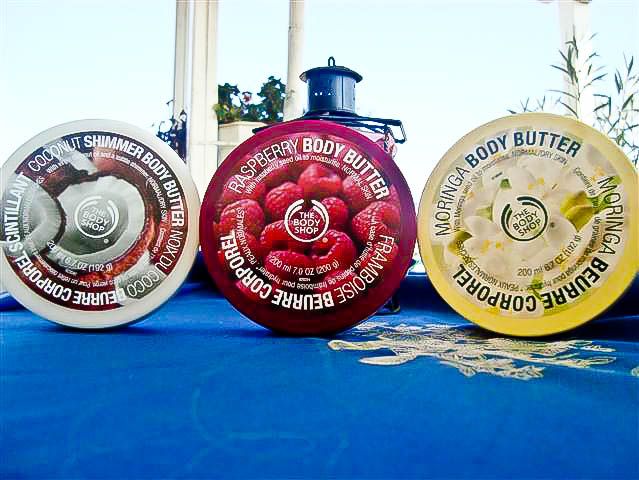 Today I'm doing a review on The Body Shop body butters, as I've been meaning to do it for a couple of months, but always hold off thinking that I should finish them up.


So, at the moment, I only have three body butters with me, the Rasberry one (which is all used up), the Coconut one with shimmer and the Moringa one(which I recently hit bottom to).

After a good 4 years of using TBS body butters, I've come to the conclusion that they are a worthy investment, as their hefty price at 15E always puts me off and are amazing moisturisers that would suit anyone, for they have different textures that suit different skin types. For example the body butters aimed at normal skin seem to have a more watery, light texture that is absorbed by the skin more quickly than the body butters aimed at dry skin, which are a little bit more thick, greasy and take longer to absorb.

As far as their scent goes, I'm a little bit picky when it comes to scents. To be honest, some of the cream products in the Body Shop smell a bit different than they actually do in real life, in a bad way, like they've expired (maybe that's just me and my local TBS shop). I usually find myself sniffing all of them, thinking how strong they smell, probably being overwhelmed by their scents all together. For example, when I took a sniff of the Coconut and Almond body butter I was put off by the scent, but having purchased both of them, I can tell you that they both smell lovely in real life.

Most of the time, I use the ones aimed at normal skin during the summer, for when my skin needs some more hydration, and the ones aimed at dry skin, I mostly use during winter, when my skin is super dry and in immediate need of moisture.
I usually put them before I go to bed to wake up with lovely, baby soft skin, or after the shower and wait for them to soak in for a bit.

All in all, I would highly recommend you to go and check them out, there's definitely one that suits your taste in scents or skin type.


Pros:
Wide variety of scents to choose from.
Good value for money. (200ml each)
Products aimed at specific skin problems.(normal, dry skin)
Extremely moisturising!

Cons:
Price. (15E each)
Some are a bit greasy. (the ones aimed at dry skin)
Takes some time to absorb.

Rating :
A



What do you think of TBS body butters? Do you like them? Which ones do you have?