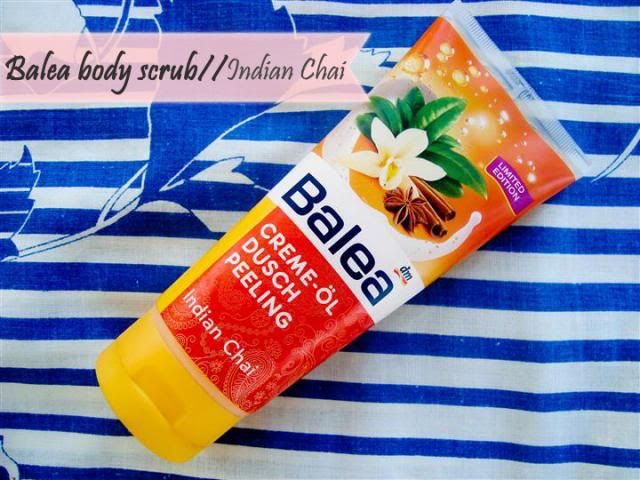 As you may have noticed, a major heat wave has made an appearance in Europe, making it almost unbearable to go out and about in the city. I am jealous of the people who live by the seaside and can refresh themselves whenever they want to. For the rest of us who have to go to work in this boiling weather and can only 'escape' during the weekend, it is only 'appropriate' to find the right products to make it bearable.

I don't know about you, but I definitely need my three-shower-a-day fix to make it through, otherwise I feel gross. I get myself ready in a towel, cooling water is running, candles are lit and I'm good to go! One of the things I seem to need more often because of the heat, is to refresh my skin twice a week. It's one thing to cleanse your skin every day, but you surely need to exfoliate and remove all those dead skins cells. I am a firm believer in exfoliliating and I seem to have found my favourite product to do so, in the past few months, which makes it a real treat whenever I'm in the shower!

Balea's body scrub in Indian Chai(LE) has got to be one of the best body scrubs out there and let me tell you what: it only costs 1.45E for 200ml! My best friend bought this for me when she went to Germany during February, as she knows I'm all about skincare and wanted something I couldn't get my hands on in Greece.

Balea products seem to be big in Germany and from the research that I was able to do (bare in mind that my knowledge in german is below zero xD ), they are extremely affordable, but still good skincare products. They do have quite a good range from body lotions, to masks, facial cleansers and so on.

My experience with the body scrub has left me speechless. Its scent is fantastic. I wish you could smell it. It is an amazing blend of Indian Chai and vanilla. It is not very strong but strong enough to make you feel fresh. It has got micro beads in it, which gently exfoliate your skin, removing impurities and all the dead skin cells, whilst leaving the skin squeaky clean and completely renewed. To be honest, it's not the most gentle exfoliator I've ever used, as the beads are quite big, but they're not harsh and it's exactly what I need to refresh my skin! Plus, they help to stimulate blood circulation as well! It also contains almond oil in it, which nourishes the skin and along with the exfoliation, makes it it velvety soft and radiant! Not to forget, this has some slight hints of glitter in it, but you can't really tell once you get out of the shower!
I couldn't find one negative to mention about this product. Perhaps the fact that is is not widely available and very hard to get. It smells like heaven, exfoliates your skin like crazy, and leaves it incredibly soft and nourished. All this for the price of 1.45E! I can't recommend this enough! This particular scent is limited edition, but if you manage to find any Balea products then surely give the body scrubs a try! I am already listing products for my friend to get me when she goes to Germany soon!

Have you tried any Balea products? Have you ever heard of them? What do you think of the review? Let me know in the comments!