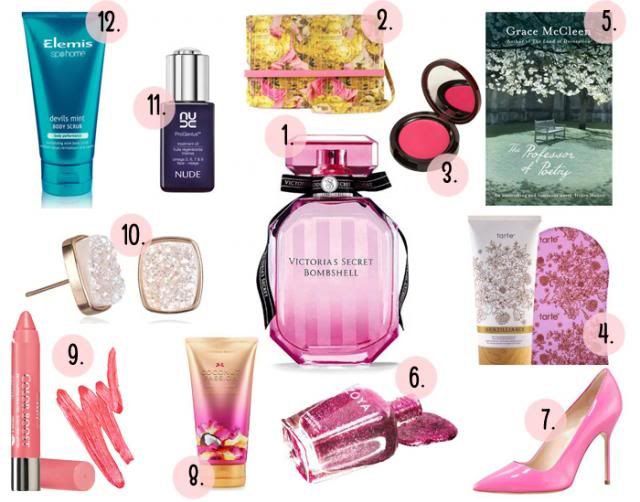 1. Victoria's Secret Bombshell perfume
2. Ted Baker clutch
3. Kevyn Aucoin Creamy Glow Blush in Liquifuchsia
4. Tarte Braziliance self tanner
5. The Professor of Poetry by Grace Mcleen
6. Zoya nail polish in Nova
7. Manolo Blahnik BB Patent Heels
8. Victoria's Secret Ultra-moisturizing Hand and Body Cream in Coconut Passion
9. Bourjois Paris Colour Boost Lip Crayon in Peach on the Beach
10. Dara Ettinger Alicia Halo Druzy Rectangle Studs
11. NUDE ProGenius treatment oil
12. Elemis Devils Mint Body Scrub



There are so many thing I'm curerently lusting over, that it was pretty hard for me to even choose my top 12 for this list! This time though, there is a good mix of fashion, skin care and make-up. I even chose a book! Nevertheless, most of these items I surely want to have in my possession in the forseeable fiture, some I may as well wait for a bit longer(Manolo Blahnik pumps I'm looking at you!) Ted Baker is not absent from my list again. I seriously am loving it, If I could, I'd probably purchase the whole shop. Not to forget to mention my obsession with Victoria's Secret Bombshell perfume! I had a sniff the other day and have decided that it needs to be mine! What's not to love about it? The scent? The bottle? Or the name?

I've also included a few skincare bits and bots, a couple of them being the NUDE ProGenius treatment oil and the Elemis Devil's Mint body scrub (how cool is the name?) Last but not least, I have developed a serious book obsession the past year and cannot imagine a day passing by without reading a chapter of my favourite book! This time, what's caught my eye is the newly released novel by Grace Mcleeen entitled "The Professor of Poetry". The plot seems quite intriguing and I'm planning on getting my hands on it very soon.

That's it, the products I'm lusting over have just been presented to you! What do you guys think?